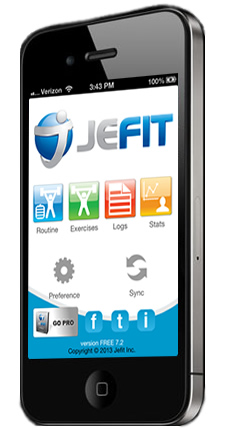 JEFIT Free iPhone Bodybuilding App
The JEFIT Workout Application was designed to help those who wanted to keep track of their workouts and routines while in the gym and for those who are just getting started exercising and need that extra motivation and boost to stay on track. JEFIT Free for the iPhone and iOS provides individuals with the tools needed to make the most out of their workouts and see significant gains while at the gym.
JEFIT Free for the iPhone and iOS devices gives users a significant amount of features and functions to allow them to track their workouts, body statistics and stay motivated in the gym with the aid of a personal trainer in the palm of their hand. Users are able to get a sense of what JEFIT can provide and offer to keep focused on what they want out of their workouts.

APPLICATION KEY FEATURES: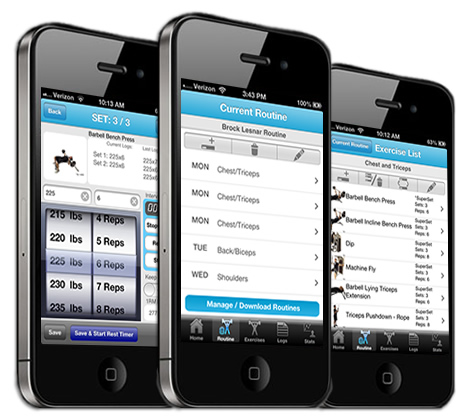 Workout Routine Planner
- JEFIT was designed to allow users, fitness enthusiasts, weight lifters and those looking to get back into exercising the ability to create their own custom workout routines to follow and stay on track while in the gym and working out. Users are able to create a routine based on how many days they work out, the type of routine that they will be performing (i.e Cutting, Sport Specific, Bulking, etc...), add in how many exercises they would like to each day created and track the weight, repetitions and sets performed while exercising. JEFIT will keep track of which exercises have been completed, the amount of sets and rep for the upcoming workouts and show previous logs, all crucial to staying on track and motivated. These routines created are also able to be shared on the JEFIT Website with other users and be downloaded to use in their JEFIT Workout Applications.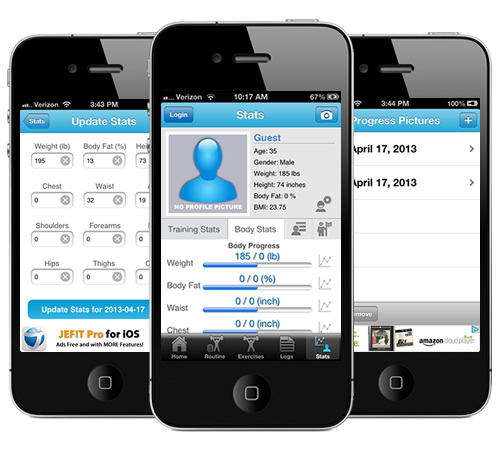 Profile Statistics and Progress Tracking
- Along with keeping track of your workout and allowing you to create custom routines to follow throughout your exercises, JEFIT keeps track of your body statistics, showing progression in weight loss or gain, recording of body part sizes and helping a user record their Body Fat Percentage and BMI (Body Mass Index Number). While recording body statistics and measurements, you are also able to take progress pictures to view the progression in your body changes as you continue on your routine. These features provide motivation for a user to keep focused on their workouts at hand and continue to either lose weight or gain muscle mass.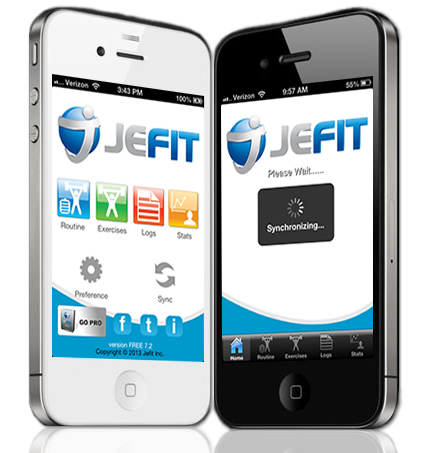 Two-Way Synchronization
- One of the most important features of the JEFIT Workout Application is the synchronization of your mobile JEFIT Profile and Information with your online account on the JEFIT Website. After each day of your routine is completed, you will be promoted to synchronize your data with the JEFIT Server to be stored and saved, thus also changing the information on your profile for you and other JEFIT Members to view. This synchronization works in both ways as you are able to change information and data for your profile on the JEFIT Website, synchronize on your application and bring the new changes into your app. Two-Way Synchronization provides a vital and useful tool to be able to save your data after your workout with the JEFIT Server or if you making changes with your online profile, bring these new fixes into your application to use with further exercises.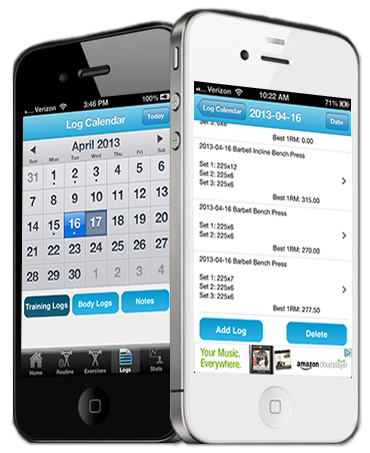 Lifting and Body Stat Logs
- After each day's routine has been completed, your information and data will be stored within the JEFIT Workout Application within the Logs Page that contains all of the data tracked and stored from each workout performed. These logs show each day that has either lifting or body stat logs recorded or notes that were written about that specific day. When viewing lifting logs for the day, you are able to see each exercise that was completed, the full listing of the amount of repetitions, sets and weight that was recorded and you can even add more log information to each day. The tracking of these logs are also crucial in viewing the progress of one repetition maximums from the exercises in your current workout routines and keeping motivated to push yourself to break the current records help in your logs.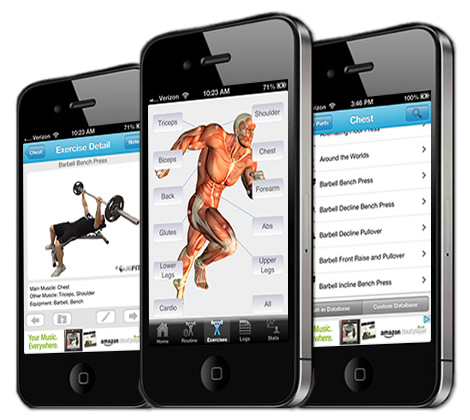 Detailed Exercise Database
- Most important to working out, is knowing the type of exercises to perform and how to excute them correctly. The JEFIT Exercise Database contains 500+ built-in exercises as well as the ability to create custom exercises that aren't currently in the JEFIT Exercise Database. When viewing an exercise detail page, you are able to see an animation that shows how to correctly perform the exercise being shown, which muscle groups that this exercise targets, the type of equipment used and a full length step by step description on how to execute the exercise to get the full benefits of its performing. From these exercise pages you are also able to add them to a current routine you are performing and view current charts on progression doing the exercise.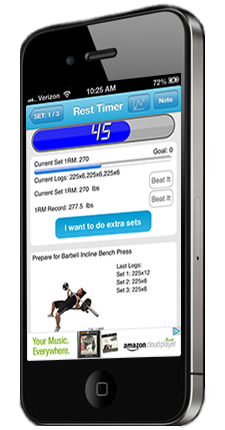 Resting Timer
- Keeping on track with your workout between sets during breaks is an important part of exercising and weight lifting as many people can become distracted by their friends, what is going on in their smart phone, or just lose track of how long they might have been originally resting. The Resting Timer feature allows the user to set a custom countdown timer to let them know when it is time to continue with their workout and begin their next set. Users are able to adjust their timers to be able to produce an alarm sound from their phone to alert that the timer has run out along with a vibration in case if your phone is in your pocket during the resting timer couting down.