Application Settings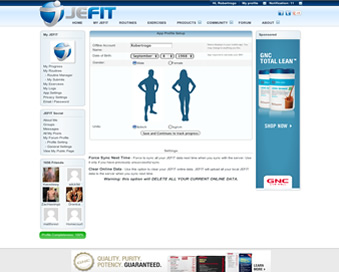 1.) Offline Account Name
- Your offline account name is how you will view your profile when on the "Stats" page in your JEFIT Application, this does not affect your main profile username at all, this is just an offline name that is used to represent who you are.
2.) Date of Birth
- You are able to change your date of birth so that your correct age will display on your profile page so that users who are within the same age range can see what type of routine and exercises that you are performing.
3.) Gender
- Here you will select the gender of the current user of the application linked to your profile, whether it be yourself, a family member or friend. This will also change your result for showing up in the member list page for other members to search for you by.
4.) Units
- Changing the units of measure will determine how the JEFIT Application will track your data that you record from the Weight/Rep/Set recording page. You are able to switch between either inches/pounds or centimeters/kilograms depending on what you use to measure units.
5.) Force Synchronization
- This feature is used in case if you had a previous unsuccessful synchronization with the JEFIT App and JEFIT Server. This will force the application to synchronize your data with your online profile and store your information in the server with your next synchronization on the applicaiton.
6.) Clear Online Data
- As stated on the app settings page, this button is used to clear all of your online JEFIT Data so that you can start your profile fresh.
* Warning : This option will delete all of your current online data! *