Forum Profile Page
1.) Main Forum Profile Page
- The forum profile page for JEFIT Members is almost identical to the main My-JEFIT Profile Page except for the forum profile pages, these are more geared towards data and information linked to your forum activity and our fourm database.
2.) About Me
- The "About Me" section from the forum profile page differenciates from the about me section on the main My-JEFIT Profile page. Here users are able to talk about themselves, discuss their usage with the JEFIT Workout Application and how they came to find JEFIT, what their favorite things are, goals and accomplishments they want to get out of their workouts and routines, post body statistics, benchmark exercise stats, as well as view their forum signature, contact information and their forum statistics with posting and messaging.
3.) Friends
- The "Friends" panel shows the friends that you currently have on the JEFIT Website and ability to click and link to their profile page.
4.) Customize My Profile
- By customizing your profile page, you have the ability to change how your forum profile page is displayed towards other users. You have the options to change the font size of the text that displays your information, the color of your borders, buttons, and headers of your profile page.
5.) Posting a Message
- Posting a message on another users wall is just as if you were commenting on their main My-JEFIT Profile Page, by leaving a comment on their forum profile page it will also display that message/comment on their main My-JEFIT Profile Page and then give them a notification to make sure that they respond back to you.
Left Panel Links
1.) View JEFIT Profile
- Clicking on the "View JEFIT Profile" button, will take you back to the user's main My-JEFIT profile page.
2.) Send Private Message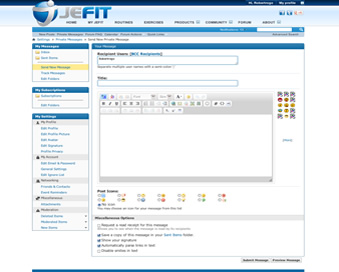 - You also have the option to leave the user a private message that nobody else is able to see, this can be pertaining to anything such as what that user does to stay in shape or motivated, you can ask questions, interact with each other, share opinions about routines, etc...
3.) Find Latest Posts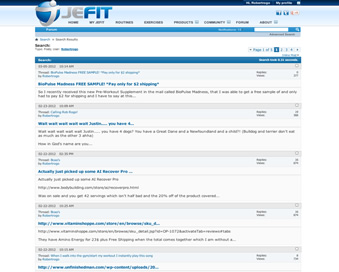 - Finding the latest posts from that user, searches the entire forum database for all forum posts that the individual has made and displays them for you to be able to go through, see and leave your own comments on.
4.) Find Latest Started Threads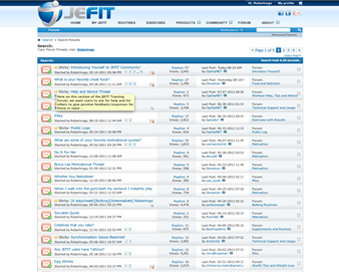 - Besides being able to see the latest posts by a user, you are also able to view the latest forum threads started by the user as well, if there is a thread that interests you, you can go in and make a post.
5.) Friends
- There is a small mini table on the left hand section of the page that displays 6 friend avatars as well as being able to view all of the users listed in your buddy list.
6.) Albums
- From all of the photo albums that you create on the JEFIT Website, the latest two will be displayed on the lefthand table and you have the ability to click and view more that have been created by the user.
7.) Groups
- This section on the left panel will display all of the groups that the user belongs to and you are able to click and view the groups for yourself.
8.) Permission Groups
- Permission groups are groups that require invites or acceptance into, these will be displayed underneath the actual groups table.
9.) Recent Visitors
- For the last 10 visitors of your page, they will be displayed in the last table on the left hand panel, you will be able to see the username of the individual who viewed your page as well as identify if they are your friend or not.