JEFIT Forums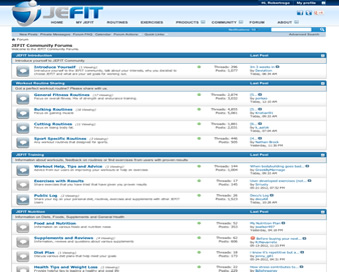 1.) Forums as a Whole
- The JEFIT Community Forums allow for members to interact with each other, introduce themselves to the community, share routines with their fellow users, ask question about how to train or workout, ask about nutrition and supplementation, even general questions about the application or techincal support and bug reports.
2.) Introduce Yourself
- On this section of the JEFIT Forums, users are able to introduce themselves to the community, tell everyone where they are from, how they got into fitness and found JEFIT, what their goals are for working out and even share progress pictures from how they have started to where they would like to get to. Essential letting your fellow members get to know you and share a common interest with the community to make friends and gain motivation.
3.) Workout Routine Sharing
- When a user submits a routine to the JEFIT Routine Database, it creates a forum posting that displays the current information of the routine, a link to the actual page in the routine database and allows users to be able to comment and make notes about that routine.
4.) JEFIT Training
- In the JEFIT Training threads, users are able to ask questions about how to perform certain exercises, what is the correct way to lift and exercise, about any exercises that actually worked that the individual.
5.) JEFIT Nutrition
- Nutrition is a main component of working out, diet and exercise, and in this thread of the JEFIT Forums, users are able to ask about the right nutritional plan for a routine that they are currently working with, questions about supplements that help provide extra endurance and stamina during exercising or the best proteins for muscle growth or the best possible nutritional plans to either bulk up, lose weight, etc...
6.) JEFIT General
- JEFIT General threads give you the ability to ask general questions about the website or application usage such as how to use features and functions provided by the app, posting progress pictures, discussing how your progress is going or just miscellaneous threads to start conversation with your fellow members.
7.) JEFIT Team
- In the JEFIT Team thread, users are able to create threads and submit postings about Bug Reports, any Techincal Reports or issues, recommendations to help improve the application and anything involving the development of the JEFIT Workout Application.