Privacy Settings for your JEFIT Profile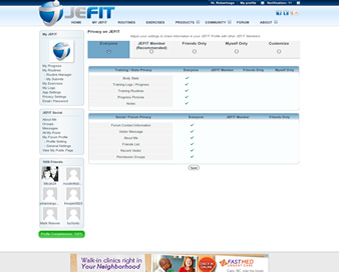 Adjusting Your Privacy Level
- JEFIT Members are able to set the privacy levels of their My-JEFIT Profile pages to either restrict the amount of concent that is provided for other members and individuals to see
1.) Everyone
- When the "Everyone" privacy setting is enabled, all users and the general public are able to view your profile statistics and information.
2.) JEFIT Member
- This option is recommended for JEFIT Users to choose from as by selecting "JEFIT Member Only", your profile information can only be viewed by those who are registered members on the JEFIT Website and the general public is not able to view your information or content inside your page.
* Note :
- As stated, this option is recommended for all JEFIT users as it allows you to be more open and accessible to your fellow members without having the general public view your information.
3.) Friends Only
- With this option, only the people that you friend on the website are able to view your content and profile information. No other JEFIT Members are able to access your statistics pages unless they friend request you and you accept their request, then they will be able to view the data.
4.) Myself Only
- Selecting the "Myself Only" privacy option allows you and only you to view all of your profile data, no other JEFIT Members are able to view your information and it is the most complete privacy that you are able to have on the website.
5.) Customize
- If you want to set the privacy for each individual option, you have the choice to customize your privacy settings. By clicking on the "Customize" button, you are able to set the individual setting for each preference and option available that suites your needs. These choices will refelect how another JEFIT users is able to view your profile page, logs and other data.