Hello All,
We're thrilled to announce that we've updated our iPhone/iOS Application.  This is a MAJOR update that contains a complete re-design to the User-Interface on many of the major pages and features within the app, improved User-Experience, brand new features, changes and adjustments to current features, bug fixes, performance enhancements and much more.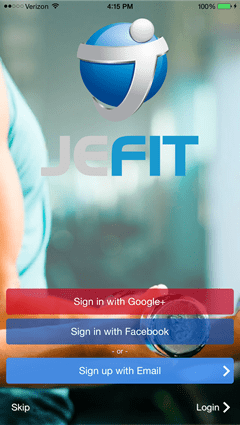 With this update for the iPhone/iOS, we are changing up things with how the application functions and how a user navigates through each page. We feel that with these new UI and navigational changes we have made in this update, that it is a major step forward for JEFIT and future updates to come.
What's New
1.) NEW –  Re-Designed User Interface and Navigational Changes
– In this new update we have made various improvements and changes to the UI of our application, enhancing and simplifying many of the most used pages within JEFIT.
Most noticeable for those logging into their account will notice a much cleaner and streamlined look to the Profile Page.
Other pages that received overhauls have been the "Weight/Rep or Do Exercise" page, the "Resting Timer" page, "Added Sets" page and more.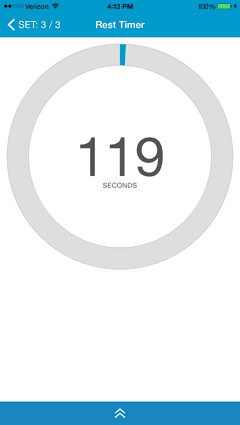 We feel that previously on these pages we had too much content and information being shared to the users at once, thus at times overflowing the page and overwhelming new and old users alike when trying to view information about your workout or just using the application in general.
Based upon feedback and small studies we have done with users, we felt that these changes were necessary and create a cleaner look to JEFIT but also a better usage of the application in the long run.
2.) NEW – Share Your Workout Summary on Facebook and your JEFIT Profile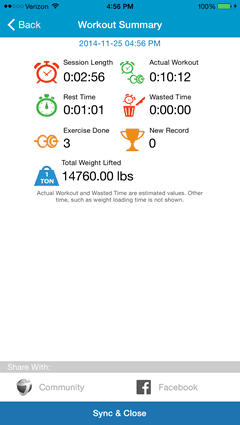 – Since the introduction of the workout summary feature, users have been requesting that we include the option to share the workout summary via social media.
We have pleased to say that in this latest update users are now able to share their workout summaries via Facebook and your JEFIT Profile.
Your friends and followers will now be able to view the progress of your training and follow your journey as you continue to improve your health.
Though only Facebook and your JEFIT Profile are available at this moment, we are working on allowing for you to share your summaries via Twitter, Google+ and Instagram in the following update
3.) NEW – Ability to Download Workout Routines Created by JEFIT Members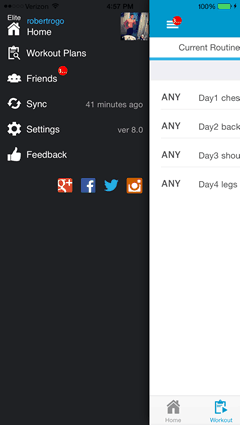 – Now you are able to download workout routines created by other JEFIT Members via the application rather than having to log into the website.
You are able to download from over 1000+ member created workout routines that will be instantly stored within your account and be able to used as your workout routine.
Following this we are planning, in an upcoming update, to allow users to submit their workout routines to the routine database from their application to instantly share with their friends and other members.
4.) NEW – Getting Started/Helpful Tasks for New Users
– With an influx in new users and the amount of content that we have within our application, we wanted to give new members options to help get their profiles set up and understand the various and important features of JEFIT.
So for new users we have provided helpful "tasks" or options to help you set up your workout routines, record your body stats and goals, create custom exercises and more to get you started off on the right foot with JEFIT and get you right into tracking your workout progress
5.) NEW – Pop-Up Interval Timer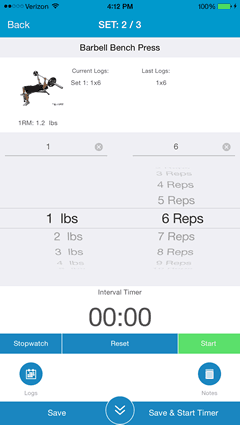 – On the "Weight/Rep Recording or Do Exercise" page, we have cleaned this page up, removing much of the content that cluttered up the page.
Thus with this change we have introduced the new pop-up menu for the interval timer so that users have the option to use the interval timer if they would like rather than having it clutter up the page; when most would just like to record their logs.
Via this pop up menu you have access to the stopwatch/countdown timer, previous logs for the current exercise you are performing as well as any notes that you have written for said exercise.
We feel this cleans up the page and creates a more streamlined approach to recording your workout data.
6.) NEW – Pop Up Log, Chart, Goals and Notes Panel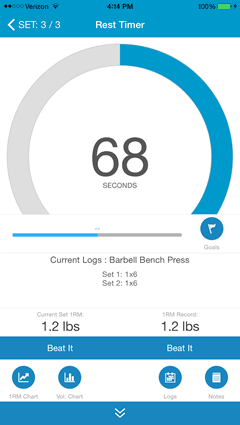 – Along with the pop-up menu on the "Do Exercise" page, we have also introduced a pop-up menu on the "Resting Timer" page.
With this menu, users are able to view their goal progress, current logs that have been recorded, current set and 1RM records, as well as access to charts and notes for the exercise.
Rather than cluttering up the resting timer page with content, just like in the previous page, we have allowed for users to bring up this data and drop it back down so that they can continue monitoring how long their rest period lasts.
7.) NEW – Guest Mode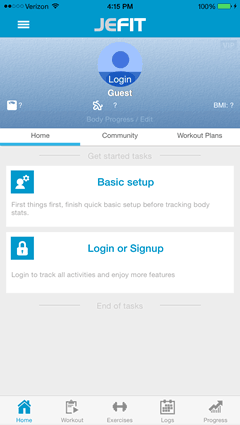 – For those who do not want to create a JEFIT Account, we have allowed for people to skip the registration process and jump right into using the application
* Though the only thing about using a Guest Account is that any information recorded WILL NOT be saved or stored within our servers, thus if you delete the application, lose your guest account or get a new phone, your information WILL be lost *
8.) CHANGED – Simplified Left Slider Menu Options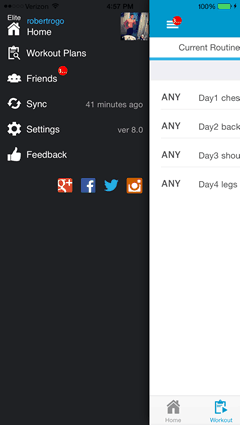 – With the the changes that we have made adding the 5 tab buttons, we have also changed up the amount of buttons on the left slider menu.
We condensed and simplified the amount of buttons on the left panel so that there isn't an overwhelming amount of pages and content on this menu.
9.) CHANGED – Drop Down Button Menu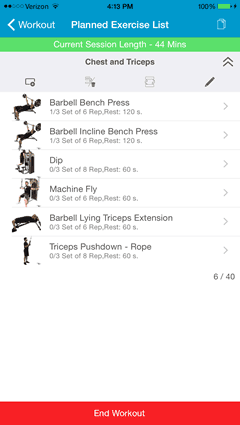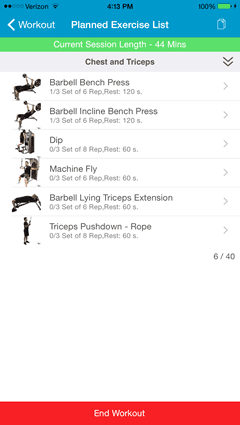 – In the process of cleaning up our UI and many of our pages, what we have done is put the buttons located on the top of many of the pages of the application within a drop down menu.
With this drop down menu users can easily slide up or down a menu of options to create a workout routine/exercise/etc…. and creates a cleaner look to the pages within the application rather than cluttering it with buttons.
10.) IMPROVED – Share Body Stats, Body Goals, Workout Routines and Achievements on your JEFIT Profile after Updating in App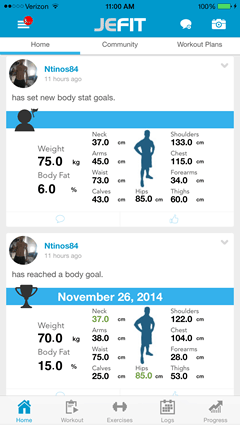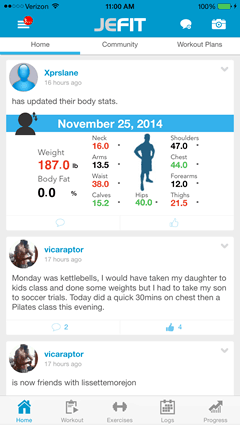 – Now with the improved activity feed updates we have made, any changes or updates that you make to your body stats/body stat goals, sharing workout routines or achieving your goals will be shared on your JEFIT Profile page with your friends/other members (depending on your privacy settings for your account).
Just like on the JEFIT Website when you make updates or changes and they are shared to your profile, the same will be done through the application.
11.) IMPROVED – Up-To-Date Current Session Length Notification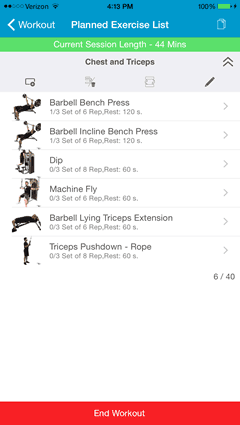 – In a previous update we introduced the session length notification to inform you how long your current workout is
We have moved the notification from the bottom left hand corner of the screen to the top of the screen so that it is noticeable throughout your workout.
12.) IMPROVED – Notifications for Friend Request and Messages Received from Friends and Other Members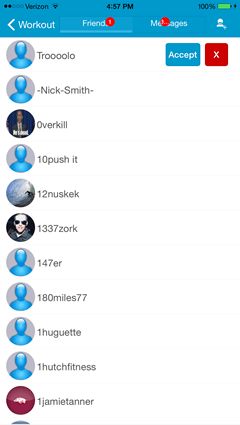 – As you continue to make updates, record workouts, share workout routines, post status updates and interact with other members in the JEFIT Community, you will receive feedback and even friend requests from new users that want to connect with you.
Unfortunately before you wouldn't know if you had a user comment, give you feedback upon your progress or even if you were receiving a friend request from other users.
Now we have added in a notification system that will provide you with a notification from your Home Screen/through your usage of JEFIT that will inform you if you have any requests or interactions with other members.
13.) IMPROVED – Ability to Find and Add Friends to JEFIT
– We have also improved the ability to find friends on JEFIT as well as sending notifications/emails out to your friends when requesting them to join you on JEFIT via social media or email.
We wanted to make it as easy as possible to find your friends via the application (for those who use it) or easily add your friends to join you and follow your progress.
14.) IMPROVED – Icons and Navigational Buttons
– We have also gone ahead and improve the current look and layouts of our icons and buttons that are used throughout the application.
In previous updates of the application we realized we had multiple icons that stood for the same features/functions which caused some complications and issues with users understanding what certain buttons were.
With this update we have gone ahead and cleaned up the icons so that each function/button is recognizable and you will be able to understand which icon/button goes to each feature available in the app.
15.) IMPROVED – 5 Button Tab Navigation
In this update we have brought back the 5 navigational tabs at the bottom of the home screen to make it easier for our users to access the most used pages on the application.
Previously in the last update we introduced the left panel navigation but with recent feedback and user requests, we have made changes to the navigation so that you are able to access the most important features of JEFIT
16.) Bug Fixes
17.)

Performance Enhancements
– We have also made various bug changes and performance enhancements to make the overall usage of JEFIT a much easier, enjoyable and fluid experience.
What Is Next
Android Update
– Following the update to the iPhone/iOS application, we will be releasing our update for the Android Application with the same UI/UX changes, new features and functionalities and improvements that we have made from this iPhone/iOS release.
Website Update and Improvements/Changes to JEFIT Elite
– We also will be making changes, improvements and adjustments to the JEFIT Website to continue to improve current functionalities and features.
Along with these changes to the website, we will be also adding additional features/improvements and updating our JEFIT Elite Service following the release of both the Android and iPhone Updates.
To all of our Elite users we appreciate your continued support and feedback for this service and look forward to many new improvements and changes to enhance Elite Subscription experience.
We appreciate all of your support and patience as we work forward on bringing you this new updates.
– JEFIT Development Team