Hello All,
We're thrilled to announce that we've updated our app for the iPhone, both JEFIT Free and Pro.
This contains a significant amount of feature additions, bug fixes, UI tweaks, performance enhancements and much much more.
With this update we are taking a major step forward with JEFIT, as with the launch of iOS7, we have been given the opportunity to create a cleaner and organized feel to our app so that you are easily able to track your progress and workouts.
What's New
1.) New  –  iOS 7 Compatible / UI Changes
– We have updated our application to be iOS 7 compatible. 
With this major OS update, we have also changed up our UI to meet iOS 7 requirements and standards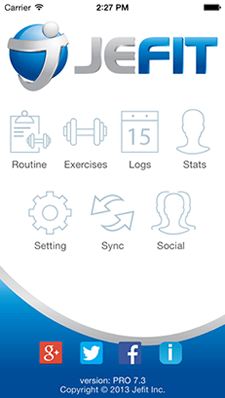 2.) New  –

Workout Time Tracker Button
– In this new update we have added the new workout time tracker that will calculate the amount of time that it took to perform your current workout routine along with your session use of JEFIT.
You are able to initiate the workout time tracking functionality either through clicking on the button at the top of the exercise list page or clicking on an exercise.
At the end of your workout the application will provide for you a workout summary page that will list detail information about the workout you have just completed.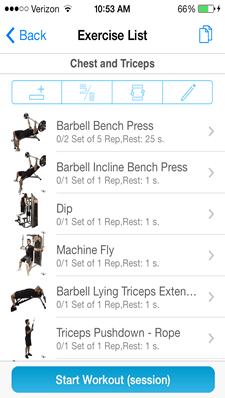 3.) New  –
Workout Summary Page
– You are now able to view your workout summary at the end of your routine, just before synchronization.
On this workout summary page you will be able to view :
Session Length
Actual Workout Time
Total Rest Time
Total Time Wasted
Exercises Performed
New Records
Total Weight Lifted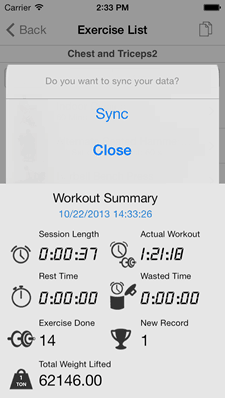 4.) New – Logging In With Facebook and Google Plus
– We have added in the ability to create and log into your JEFIT Account using Facebook and Google Plus.
Connecting Your Social Page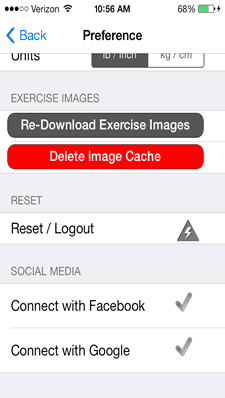 Logging In With Facebook and Google Plus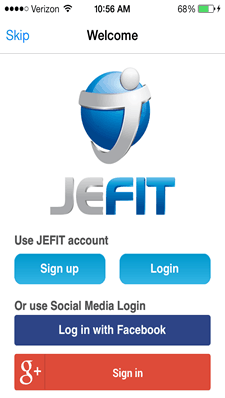 5.) New  –
Added View Online Progress Button to Sync Page and Stats Page
– We have added a blue "View Online Progress" button on both the synchronization page as well as the Stats Page so that you can view your workout and body progress online as well as check your news feed to see the progress of your friends on the fly.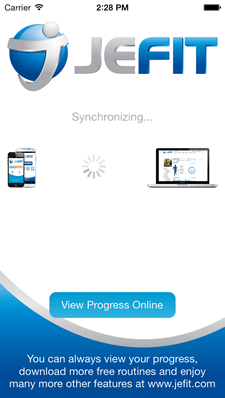 Viewing Your Online Profile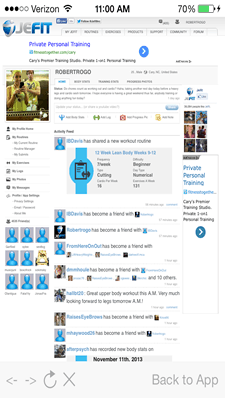 6.) New  –
Social Media Page / Website Connectivity
– Social Media has become a major staple within fitness and working out, for both keeping track of your progress and to receive feedback/motivation from your friends.
We have added the new social button on the main page that will connect you to the JEFIT Website and your My-JEFIT News Feed Hub.
On this page you will be able to update your status, comment on your friend's status's/updates, add users as friends and respond to messages sent by other JEFIT Members.
We wanted our users to easily connect to their pages and post up an update so that they can get the feedback from their friends and followers on the JEFIT Website. This provides encouragement to help you push forward and strive to achieve your fitness goals.
At the moment this is a basic functionality but will be leading into much deeper functionality and features for social media connectivity, posting and usage through JEFIT.
The Buttons are listed on the top of the page as followed.
News Feed
Friends List
Messages
Activity Feed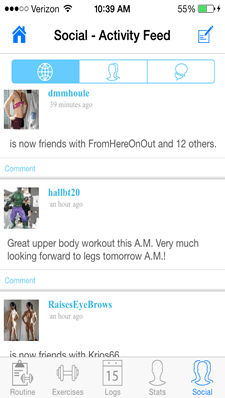 Friends List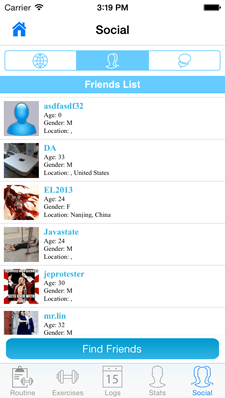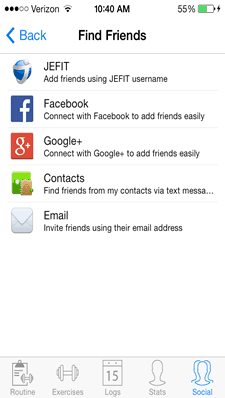 7.) New  – Progress Picture Uploading and Downloading
– Users are now able to upload progress pictures to their online JEFIT Account as well as download pictures from your profile.
Downloading Progress Pictures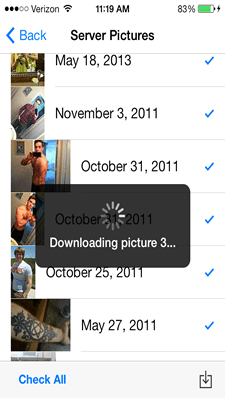 Uploading Progress Pictures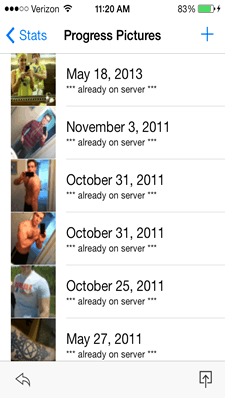 8.)
New  –  Getting Started Page for New Users
– For new users and those who open JEFIT for the first time, there will be a brand new Get Started page that will introduce you to JEFIT and the features that are in the application and website.
9.) New  –
Add Descriptions into Custom Exercises
– We have now allowed for users to add their own descriptions into custom exercises. Previously you were only able to put in some detail exercise information such as body part worked or the name of the exercise but with this update you can list how to perform the exercise as well with the description.
10.) New  –
Exercise Database Changes
– To continue to improve our ever expanding exercise database, we have made some recording changes to improve recording your logs and description changes to easily understand how to perform said exercises.
11.) New  – Exercise Database Naming / Navigational Panel
– Along with the detail and recording changes we have made in the exercise database, we have also changed up the listings of exercises within in the Exercise Database.
We have changed all exercises to list starting with Equipment first followed by the name of the exercise being performed.
Also on the right panel of the exercise database we have added in a quick navigation so that you are able to quickly search through the exercise database based upon alphabetical order.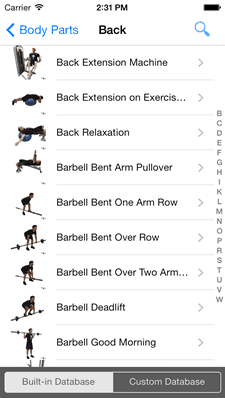 12.) New – Cardio Exercises – Interval Timer Updates Duration
– When you are performing/recording a cardio exercise, by using the interval timer, the application will automatically update the duration field to easily track and recording your cardio exercises.
13.)
User Interface Changes and Tweaks
– We've worked hard to ensure that JEFIT provides an experience that meets and exceeds your expectations, so we have made a few UI changes and tweaks to various pages highlighting exercise detail, 1RM progress achievements and more.
14.) Bug Fixes and Performance Enhancements
– We have also made various bug changes and performance enhancements to make the overall usage of JEFIT Free a much easier, enjoyable and fluid experience.
* Reminder * : Please send all of your emails, questions, feedback, reviews and suggestions requests to support@jefit.com or post on the App/Website Questions on the Forums
Don't forget to like our Facebook Page, Follow us on Twitter, Add us to your Inner Circle on Google + and review us on both the iTunes App Store and Google Play Stores!



We appreciate all of your support and patience as we work forward on bringing you this new update.
– JEFIT Development Team