Hello All,
We wanted to inform you all that the servers are back up!
We also have released the revamped and redesigned My-Jefit Profile Pages!
As our Android and iPhone applications have gotten redesigns earlier this year, it was necessary for us to take the time to revamp the Jefit Website and Profile Pages.
The My-Jefit Profile Pages are the most viewed and useful tools on the website and it was crucial for us to take it up a notch when giving our pages an overhaul. Now our pages have a fresh, fun, motivational and provide better user experience just as that within our applications.
BRAND NEW- News Feed Tab
These pages include a brand new "News Feed" page where you can view what other Jefit Members are doing with their workouts or their statuses.
Users can post summary updates about their body stats, body stat goals, any goals they they have accomplished or detailed information about workout routines that are shared to the Jefit Routine Database.
To view these status updates and postings by users, you will have to add friends to your personal page. The only posts that you will see at the moment will be your own until you add more users as your friends. Your privacy settings on your profile will also limit the amount of information that is shared on the news feed hub with other Jefit Members.
These functionalities working alongside the Jefit Workout Application so that any time that you make an update to your body stats, set body stat goals or upload a new progress picture, it will post your latest update to your news feed hub.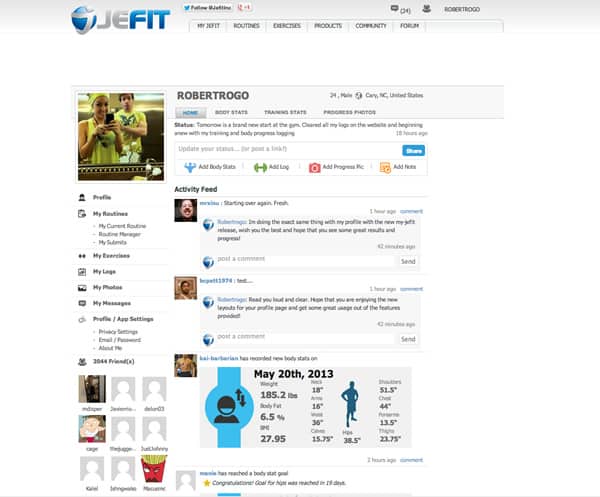 Setting Body Stat Goal

Updating Body Stats

Workout Routine Shared

Achieving Body Stat Goal

Body Stats Tab
There is also a revamped "Body Stats" page that will allow users to see detailed information about their current weight, lean body mass, body fat mass and body stat progress with up-to-date goal bars to show you how well you are progressing with your goals.
As you update your body stats, the goal bars will change to show how well you are progress with percentage to your goals.
Once updating your body stats, this will share a post on the news feed to help keep you motivated and on track with your goals.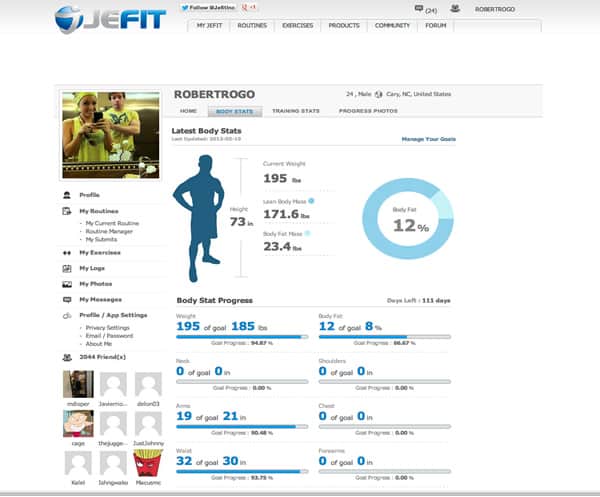 Training Logs Tab
The "Training Logs" page has been added in to allow users to see the current workout routine that they are using as well as their current progress and goals for their benchmark exercises.
With each time a benchmark exercise has been tracked through the application and data synchronized, this will automatically make changes with your training stats tab. The goals bar on the page will update along with the data that is recorded.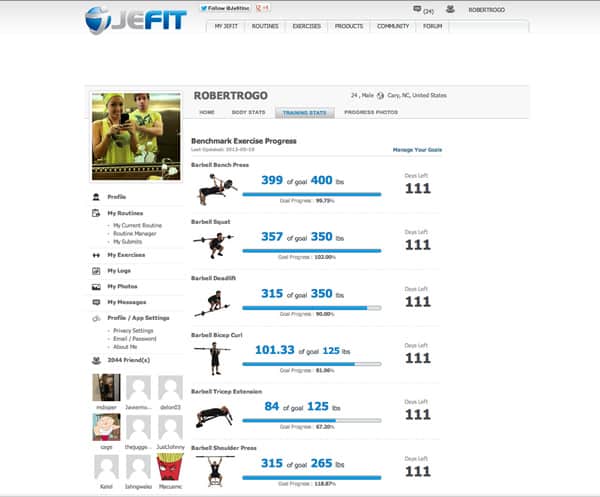 Progress Photos
On the progress photos tab you are able to view all of the progress photos you have uploaded, any progress photo albums that you have created as well as the brand new feature of "Before VS Now".
Users are able to see their progress from the first time that they have uploaded a progress picture and updated their stats compared to their current progress picture and stats.
This allows you to see how well you are doing with your training and stay motivated with your workouts!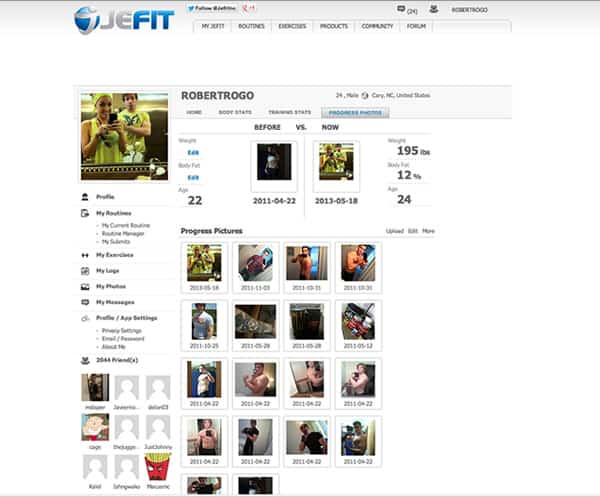 We hope that everyone enjoys these brand new updates and major changes to the My-Jefit Profile Pages.
Thank you all for your support and we appreciate your usage of Jefit!
– Jefit Development Team