Hello All,
We're thrilled to announce that we've updated our Android Application.  This is a MAJOR update that contains a complete re-design to the UI with the new slider functionality, brand new features, changes and adjustments to current features, bug fixes, performance enhancements and much more.
With this update for the Android, we are changing up things with how the application functions and how a user navigates through each page. We feel that with these new UI and navigational changes we have made in this update, that it is a major step forward for JEFIT and future updates to come.
What's New
1.) NEW – User Interface and Navigational Changes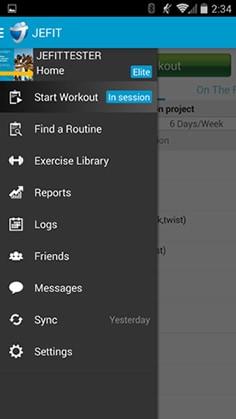 – In this new update we are completely changing up the navigation for JEFIT, removing the landing page and using a slider-navigational system.  As soon as you open up the application, you will be re-directed to the NEW "Training Snapshot" page where you are able to view your last few weeks worth of training, to navigate to another page, you will click on the JEFIT Icon at the top left hand corner of the screen to initiate the slider function.
From here you will easily able to navigate through each of the main pages of JEFIT from starting your workout routine, finding a workout routine, browsing the exercise database, viewing your trainings, viewing your NEW training reports and more.
On each page within the application you will notice a header for each page, by sliding the page either to the left or right, you will be able to navigate through each of the different slides/pages within each section that you select. As you can see in the image below, the header for this section is called "My-Routines", by sliding the application the application to the left you will be able to access the "Download Routines" page.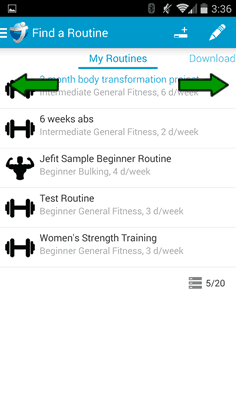 Having this new sliding features makes it easier to navigate throughout the application, also it helps reduce the amount of clicking to get to a specific page as it was in the previous iteration of the application as you had to click multiple times just to access the routine manager page or to download more routines. Now all you have to do is open up the main left panel slider, click on find routines, and then slide through either your routine manager or download more routines to access various pages.
We feel that the slider option opens up more for us to make JEFIT, the pages and functionalities of our program easily accessible for even the newest of users, especially as we continue to add in new features with future updates to come.
2.) NEW – 30 Day Training Snapshot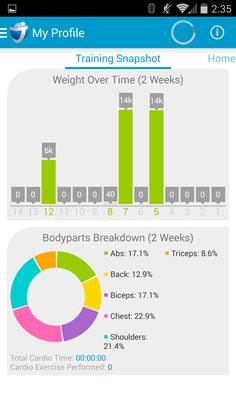 – The NEW "Training Snapshot" page is now the new landing/home page for your JEFIT experience. When loading up the application you will be brought to this newest page where you will be able to view the last few weeks of training that you have performed using JEFIT.
On this page you will be able to view the total weight that you have lifted over the past 2 weeks time along with your "Bodypart Breakdown", assessing how you split up your training and which muscle group has been delegated time during your workouts.
3) NEW – ELITE Members Have Access To Account and Features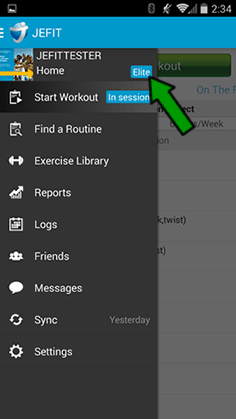 – As we have most recently released our Elite Membership, with this latest update, those who currently have an Elite Membership with JEFIT will have access to their Elite Accounts and features within the JEFIT Application.
By logging into your account, you will notice on the NEW Left Slider Panel, your username along with a notification to represent whether you have a Basic, Pro or Elite Membership with JEFIT.
4.) NEW – ELITE ONLY Charts/Pages/Graphs and Stat Tracking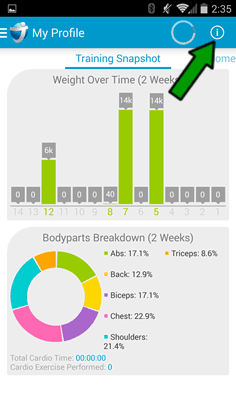 – In this update we have also tied Elite Accounts into the application so that the features that you get with your JEFIT Elite Membership will tie into new application features that Elite Members only have access to.
These features include additional stats and graph pages for the workouts that you are performing but you also gain access to lengthier Weight Lifted Over Time Graphs, Bodypart Breakdown, Lifting Intensity, Total Exercise Time, Wasted Time Graphs and much much more which are only available for Elite Subscribers.
With those who have a subscription to JEFIT Elite and log into your Elite Membership on the application, you will have access to all Pro and Elite features.
5.) NEW – Workout On The Fly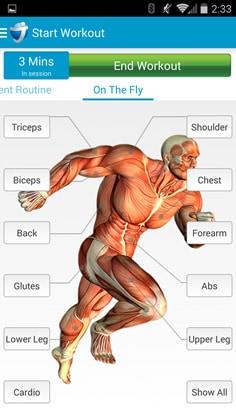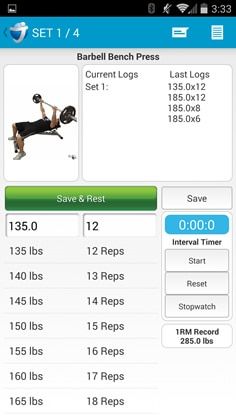 – We understand that there are users who doesn't follow a traditional workout routine and at times, perform a workout on the fly. With this information we have created the newest feature, aptly named "Workout on the Fly", which allows for JEFIT Members who don't follow a standard workout routine to be able to select the exercises within JEFIT (either Built-In or Custom) and easily start recording workout logs without the need for a routine.
By default the application will automatically set up your "Reps/Sets/Timer" based upon the default values that you have set for yourself on the preferences page.
As you record your workout logs using the "Workout on the Fly" functionality, the application will automatically start tracking your workout session so that you are able to view your current progress with the workout you are performing.
6.) NEW – Favorite / Recent / Most Popular Exercises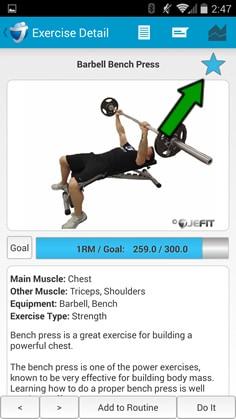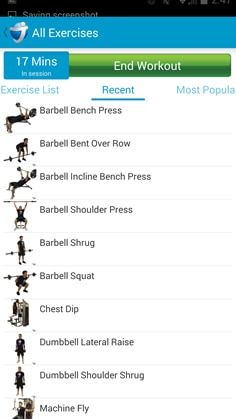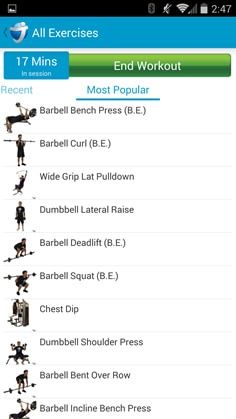 – We have made various changes to our exercise database as well, now allowing for users to set up their "Favorite" exercises as well as view their most recent exercises either performed or view along with the most popular exercises performed by JEFIT Members.
On the exercise detail page for a specific exercise, you will be able to highlight/click on a star icon, this will set this select exercise as your "Favorite" exercise.
While on the exercise list for a specific muscle group, you will be able to slide the page either to the left or right to gain access to these new pages, by sliding the application to the right you will be able view your "Most Recent" exercises performed as well as the "Most Popular" exercises performed by JEFIT Users.
We know that having additional options and choices to split up viewing the exercise database as well as marking down your favorite exercises will greatly improve your usage of JEFIT and structuring workout routines that you will create.
Additionally setting up your "Favorite" exercises will also tie into the latest feature that we have added into the application, the NEW Custom Benchmark Tracking feature.
7.) NEW – Custom Benchmark Exercise Tracking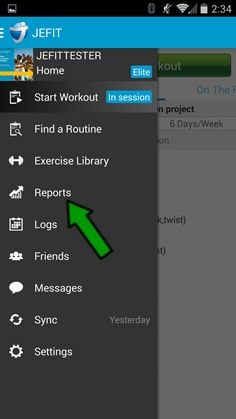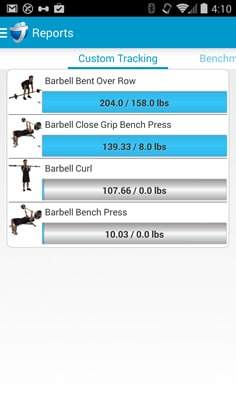 – Users are now, by utilizing the "Favorite" exercises functionality, track their custom benchmark exercises based upon the exercises that they have set as their most favorite exercises to perform.
To access this page you will want to click and initiate the slider feature, after which on the left panel you will want to click on the "Reports" link. From here you will slide the page to the left and from here you will notice a header listed as "Custom Tracking". This section will list all of the exercises you have marked down as your "Favorite" exercises and you will be able to track your custom benchmark progress for each exercise.
8.) NEW – Muscle Assessment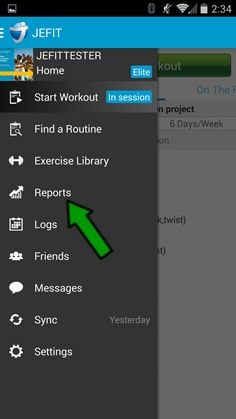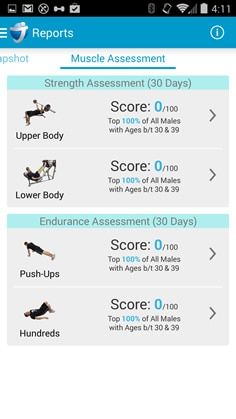 9.) NEW – Body Fat Calculator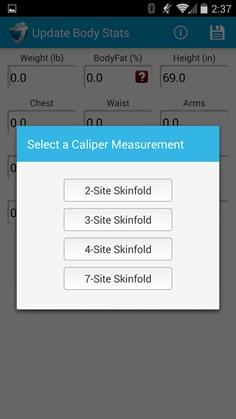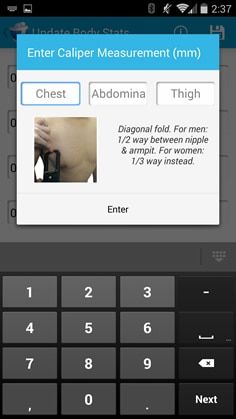 – In this latest update we have also included the new body fat calculator feature which based upon your skinfold measurements, JEFIT will be able to calculate your body fat measurements.
With the body fat measurements page, we have provide 4 separate options for you to enter in your skinfold measurements but also have provided detailed images and descriptions on how to record such measurements for the application to generate your body fat measurements.
10.) NEW – Body Part Measurements / How To Page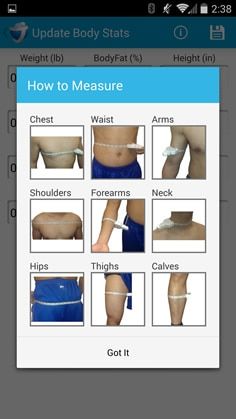 – On the body stats page we have now included a section that helps users understand how and where to measure their specific body parts so that they can get the accurate results for their body measurements.
This includes images that pinpoint where on your body you will want to measure to get the most accurate results possible.
11.) NEW – Re-designed Log Page Layout with Icons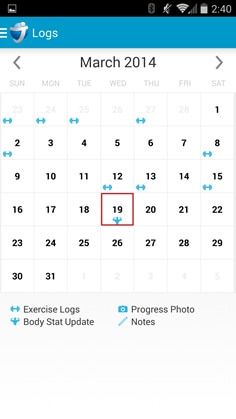 – We have gone back and re-designed our Logs Page, so now you will be able to recognize which days you have tracked body and workout stats, notes and progress photos via the new icons/legend system we have incorporated.
This will allow you to easily view your logs and stats, see when you have recorded specific logs on each date and more.
Also we have include a new 4th tab/swiper page specifically for Progress Photos so that you are able to view the progress pictures that you have taken on select dates.
12.) NEW – Workout Summary Total Time During Workout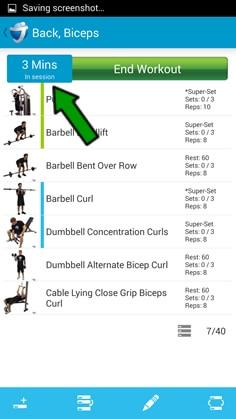 – As we have previously introduced the workout summary functionality into a previous update of JEFIT, in this latest update we have included the new feature where you are able to view your total workout time/workout summary during your workout.
Once you initiate the the workout session for your workout, you may navigate through the Routines and Exercise pages and be able to view your total workout time during the workout you are currently performing.
13.) NEW – Workout Summary View During Workout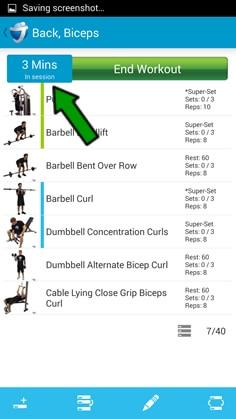 – Along with the ability to view your workout time during your training, you may click on the total workout time button and JEFIT will generate for you a mid-session workout summary so that you are able to view how your workout is progressing throughout the routine/training that you are performing.
This will give you a sense of how you are doing for your exercises, if you need to pick up the pace, how many records you have broken and more.
14.) NEW – SuperSet Highlighting and Identification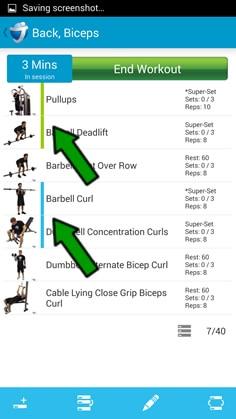 – The super-set functionality is a major and frequently used feature for the JEFIT Application, with this update we have included the new super-set highlighting and identification option where you are able to easily view which exercises that you have grouped together within a super-set.
15.) NEW – Redesigned 1RM and Total Volume Charts w/ Additional Data and Stats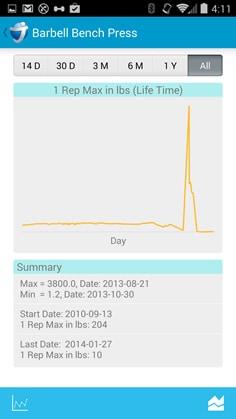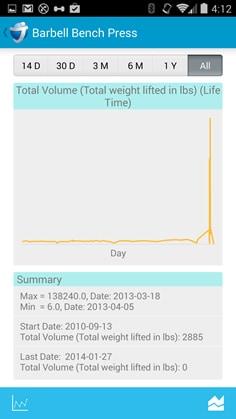 – We have also gone forward with this update and completely re-designed our 1RM And Total Volume Charts page so that you now receive a clearer/much more organized graph along with summary data based upon the information that you have recorded for the exercise data that you are viewing.
In the summary section you will be able to view the maximum and minimum 1RM and Total Volume that you have recorded, and the first/latest time that you have recorded data for said exercise.
We feel that the changes to these graphs will make viewing your stats/1RM and Total Volume charts much more efficient and coherent.
16.) NEW – Time Period Length to Track Graphs and Data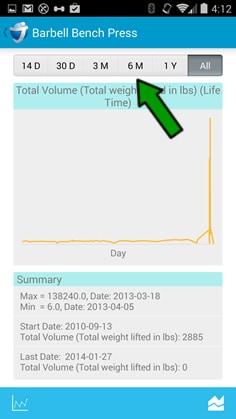 – Also with the latest changes that we have made to the 1RM and Total Volume charts, we have included the new "Time Period" option so that you are able to select the time period of which the graph will generate your data for you.
The options that you have to view your data for are the past 14 Days, 30 Days, Last 3 Months, 6 Month, Previous Year and All of the data that you have recorded.
17.) NEW – Routine Searching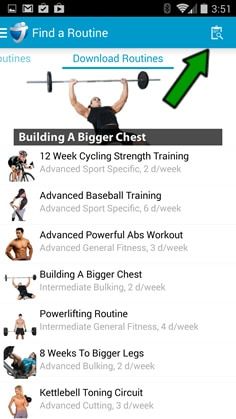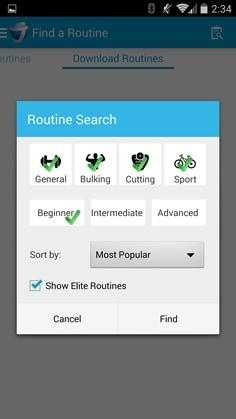 – On the download routines page/slide, we have included the new "Routine Search" functionality where you will be able to search for routines based upon the type of routine, difficulty, and its popularity among other JEFIT Members.
Right now this option is only available for JEFIT Team created workout routines but as more user-created workout routines get submitted to the routine database, we hope to include user-created workout routines to this list.
18.) NEW – Last Time Synchronized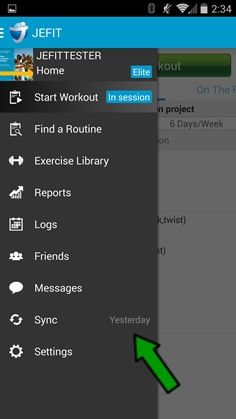 – On the main slider panel, we have included the time table for when your last synchronization was.
This is beneficial for those who have potentially forgotten when their last synchronization was for their workouts and data that they have recorded to make sure that this data is stored within your account on the database.
19.) NEW – Workout Session "In Progress" Notification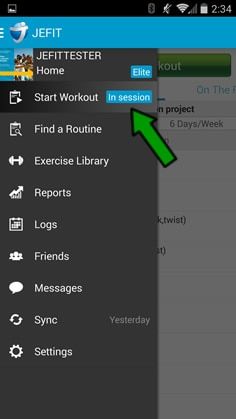 – To tie into the workout session functionality, we have included the new workout "in session" notification text on the left panel so that users know when a workout session is being recorded.
This is beneficial for all users, especially Elite members so that their Training Reports will be adjusted accordingly based upon the workout sessions that they record.
20.) NEW – Position/Progress Within Routine Status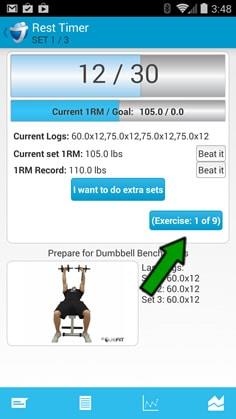 – On the resting timer page we have included a new notification button that will allow you to know what position in your current workout routine you are in and how far along you have been progressing.
This is beneficial for those who want to keep track how far they are within their workout routine and how many exercises they have left before their workout is complete or which exercise comes next within their routine.
21.) Bug Fixes
22.) Performance Enhancements
– We have also made various bug changes and performance enhancements to make the overall usage of JEFIT a much easier, enjoyable and fluid experience.
What Is Next

iPhone/iOS Update
– Following the update to the Android application, we will be focusing our attention to the iPhone/iOS Application which will receive the exact MAJOR update with the new Slider UI, Training Snapshot, Re-Design and Changes to Current JEFIT Features and much more.
We are hoping to have this update out as soon as possible so that our iPhone/iOS users get access to the multitude of features included in this latest update to JEFIT as well as Elite Subscribers for the iPhone/iOS get access to their Elite features within the application.
We appreciate your patience and support as we work forward to bring you this major update for the iPhone/iOS as soon as possible.
* Reminder * : Please send all of your emails, questions, feedback, reviews and suggestions requests to support@jefit.com or post on the App/Website Questions on the Forums
Don't forget to like our Facebook Page, Follow us on Twitter, Add us to your Inner Circle on Google + and review us on both the iTunes App Store and Google Play Stores!



We appreciate all of your support and patience as we work forward on bringing you this new update.
– JEFIT Development Team