What can you do to keep you and your family safe during an extremely stressful time? The following article takes a look at just a few of the many health benefits of exercise. The cumulative effect of stress is obviously not healthy for the body. A recent study showed younger people are not exercising at a rate as pre-pandemic. One group, however, that is not part of this inactive group, are individuals sixty-five and older. They are finding time to exercise in record number. How about the rest of us?
Take Advantage of the Many Health Benefits of Exercise
*****************************************************************
Exercise Improves Mood & Mental Health
During each exercise session, the body releases chemicals like endorphins and dopamine that improve our mood and make you feel more relaxed. Another chemical you may not have heard much about is brain-derived neurotrophic factor (BDNF). It may be the most important chemical released during exercise since it fosters long-term brain health. BDNF acts not only as a growth factor, it also promotes the formation of new connections between nerve cells. As a result, regular exercise helps you manage stress better and reduce your risk of depression.
"People suffering from depression are 2.5 times more likely to have experienced stressful life events. Exercise appears to help buffer these negative life events," according to the authors of the book, Exercise for Mood and Anxiety.
Regular Exercise Improves Sleep
As I'm sure any physician or exercise expert will tell you, sleep is a critical component for mind and body restoration. With an inadequate amount of sleep, the body will eventually have issues with the recovery and building processes from that days workout. It has a lot to do with your central nervous system (CNS). When the body goes away from getting optimal amount of sleep – no matter what the reasons – the CNS does not get time to fully "recharge" or recover. Why is this even important? Because your CNS is responsible for reaction time and initiating muscle contractions and much more. As a result, the body becomes slower and will feel weaker in workouts.
Health Benefits of Exercise: Studies Demonstrate When You "Do It" You Live Longer
Author Dan Buettner of the Blue Zones has spent most of his career studying populations that live longer. The different "blue zones" that he studies are areas from around the world where people were 3 times more likely to reach 100 years old who followed a series of strategies. Two of the more important were the types of food someone ate on a regular basis and daily activity.
Walking more is associated with longer life. Adults who walked 8,000 steps per day had a 51 percent lower risk of all-cause mortality, compared to those who walked 4,000 steps a day as reported by researchers in a JAMA study. Not into walking but you like to run? A study in the British Journal of Sports Medicine reported any amount of running, even once a week, was associated with a 27 percent lower risk of all-cause mortality.
Regular Strength Training Keeps You Strong & Healthy
One of the first things you think of when strength training comes to mind is muscle. When done correctly, strength training builds additional muscle mass. This in turn keeps the body healthier and more functional, especially during the aging process. The health benefits of exercise, especially strength training, includes increased bone strength. Remember, that tendons connect muscle to bone. As we lift weights, the resistance creates a "pulling" effect on the tendon that consequently pulls on the bones, making them stronger over time.
Data from a 2017 study looking at more than 28,000 women from the Women's Health Study showed "a moderate amount (≈1–145 minutes/week) of strength training was associated with lower risk of all‐cause mortality compared with 0 minutes/week, independent of aerobic activity." In a second systematic review study of 1430 studies, showed resistance training was associated with a 21 percent lower all-cause mortality and that number more than doubles when aerobic exercise is added. According to the authors, "resistance training is associated with lower mortality and appears to have an additive effect when combined with aerobic exercise."
Stay Strong Together with Jefit
There probably has not been a more important time to either start or maintain your exercise routine. The benefit of reducing stress alone should be enough to make you exercise most days of the week. Try using the Jefit app to help make your life a bit easier as well. The award-winning app will help you plan, record and track your strength training sessions. Stay strong especially during these stressful times!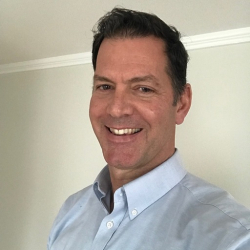 Latest posts by Michael Wood, CSCS
(see all)