As more individuals begin to head back to the gym, the focus turns to building muscle and strength. Gaining additional knowledge regarding both topics will only help your fitness cause.
Fifteen Facts Regarding Muscle and Strength
Muscle: Build and Preserve it as You Age
1. How fast can you build muscle? One study reported, that "high responders" were able to build an average of 4.5 kg of muscle mass (about 10 lbs.) after 12-weeks of a push-pull-legs strength training program (5x/week). The "low-responders" put on an average of 1.2 kg (2.6 lbs.) in that same time span. 
2. Do you know there are three types of muscle tissue found in the body? Cardiac muscle, skeletal muscle, and smooth muscle are their names, and they come in all shapes and sizes. There are approximately 650 muscles in the human body. Some reports cite more because they count "all" muscle. For example, the biceps brachii muscle has two heads, does this count as one or two muscles?
3. The gluteus maximus is the largest muscle in the body, the calf muscle can generate most force when used, and the jaw muscle exerts the most pressure.
4. Your muscles create at least 85 percent of your total body heat.
5. A meta-analysis published in Medicine & Science in Sports & Exercise reviewed 49 studies of men ages 50 to 83 who did regular strength training and found that subjects averaged a 2.5-pound increase in muscle mass.
6. Research has shown three decades of age-related strength loss and two decades of age-related muscle loss, can be recovered or reversed within the first couple of months of starting a strength training program.
More Fun Facts About Muscle
7. According to Mayo Clinic researcher Nathan LeBrasseur, Ph.D., of Mayo Clinic's Robert and Arlene Kogod Center on Aging, "We achieve peak muscle mass by our early 40's. There is a progressive deterioration from that point on, resulting in as much as a 50 percent loss by the time we are in our 80's or 90's." 
8. Starting around age 30, we begin to lose as much as 3 to 5 percent of muscle mass per decade.
9. The average women's maximal strength is about 60 percent compared to that of the average man. When looking at the upper body, women average 25-55 percent of men's average strength. The gap closes in the lower body, where women are 70-75 percent as strong as men.
10. Muscle is more dense that adipose tissue (fat) and as a result, takes up less space on the body. In terms of weight, muscle = 1.06 kg/liter and fat = 0.9196 kg/liter. This makes muscle tissue approximately 15 percent more dense than fat tissue.
11. Skeletal muscle makes up approximately 40 percent of total bodyweight. Some researchers suggest that number could be even higher. According to Shephard, in Biochemistry of Physical Activity, the skeletal muscles – when considered collectively – form the largest of the body organs. About 28 kg (62 lbs.) in a 70-kg sedentary man. In terms of a low/high number, men are comprised of about 40-50 percent muscle mass while women are in the range of 30-40 percent. The single number most often sited in scientific research is 42 and 36 percent respectively for men and women.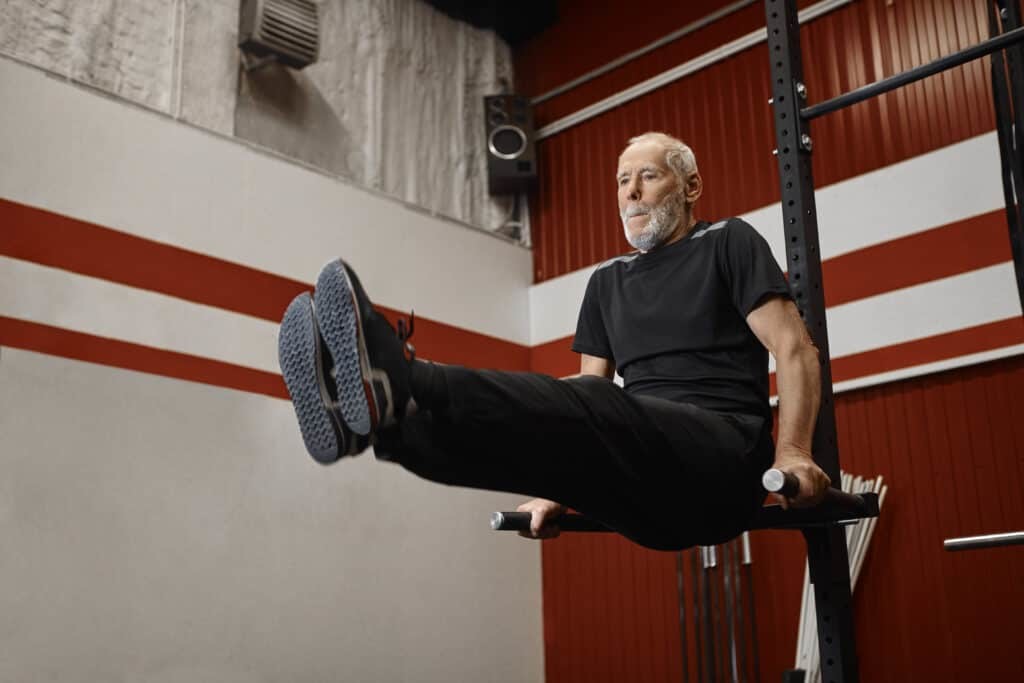 Strength Adage: Use it or Lose it
12. Strength appears to peak between the ages of 25 and 35 and is maintained between ages 40-50. It then declines by 12-14 percent per decade after 50 years of age, according to research published by Doherty and colleagues.
13. According to research, individuals who do not strength train lose 5 to 7 pounds of muscle every 10 years. A by-product is a reduction in metabolism by about 50 calories a day. The loss of muscle becomes more pronounced as we continue to age. By the time we reach age 70, the muscular system has experienced a 40 percent loss of muscle tissue and a 30 percent decrease in strength.
14. An average women's maximal strength is about 60 percent compared to the average man. When looking at the upper body, women average 25-55 percent of men's average strength. The gap closes in the lower body, where women are 70-75 percent as strong as men.
Additionally
15. According to biochemist and former CrossFit owner, Robb Wolf, PhD., building and maintaining lean muscle is the best thing you can do to optimize longevity. "There's this guarantee of losing muscle mass, losing the ability for maximum power production, as we age that begins in our 30's," he explains. Research shows, you lose 3 to 8 percent of muscle mass per decade after you turn 30, and even higher rate after age 60. The process called sarcopenia, or age-related muscle mass loss, that happens as you age; between the ages of 20 and 80, research has found you can actually lose 40 percent of your muscle mass.
In Ending…
Staying active, in addition to strength training regularly, early in life, builds a strong foundation, especially when trying to maintain muscle and strength later in life. The great thing is you can help prevent the loss of muscle tissue and strength as you grow old. So it's never too late to hit the gym and get involved in strength training.
References
Davidsen, PK., et al. (2011). Responders to resistance exercise training demonstrate differential regulation of skeletal muscle microRNA expression. Journal of Applied Physiology.
Shephard, RJ, (1984). Biochemistry in Physical Activity. Springfield, IL: Charles Thomas Publisher.
Doherty TJ, (2001). The influence of aging and sex on skeletal muscle mass and strength. Curr Opin Clin Nutr Metab Care 4:503-508.
Poon, L.W., Clayton, G., & Martin, P., et al. (1989). Individual similarities and differences of the oldest-old in the Georgia Centenarian Study. The Gerontologist, 29, 43.
Ivey, FM et al., (2000). The Effects of Age, Gender and Myostatin Genotype on the Hypertrophic Response to Heavy Resistance Strength Training. J. Gerontol: Med Sci 55A: M641-M848.
Mozaffarian D, Hao T, Rimm EB, Willett WC, and Hu FB, (2011). Changes in Diet and Lifestyle and Long-Term Weight Gain in Women and Men. New England J Med; 364:2392-2404.
Stay Strong Together
The app comes equipped with an advanced customizable workout planner and training log. In addition, the app has ability to track data, offer audio cues, and has a feature to share workouts with friends. Take advantage of Jefit's exercise database for all your strength workout needs. Visit our members-only Facebook group. Connect with like-minded people, share tips, and advice to help get closer to reaching your fitness goals. Try one of the new interval-based workouts and add it to your weekly training schedule.
Latest posts by Michael Wood, CSCS
(see all)