Join JEFIT's second monthly fitness challenge, available on iOS and android, the Dancing Pecs Challenge! Find extra motivation to mix up your workout routine and focus on your chest. No need to sign up to participate, you just need to log 20 pushups (of any type – full list below) on 21 different days in June. To get the most out of the challenge – push yourself to do the most advanced pushups you can. Alternatively, you could also use this as an opportunity to try out the different types of pushups available. Users who complete the challenge will be rewarded with exclusive in-app badges that will never be available again as well as some iron points! Show off your dedication to fitness and your consistency with JEFIT. Keep reading below for more information on the monthly fitness challenge.
How to Find the Monthly Fitness Challenge Page
Navigate to the Discover tab and then tap the "Dancing Pecs Challenge" button
This brings up the Fitness Challenge hub where you can see more information on the contest rules, your progress, and the prizes.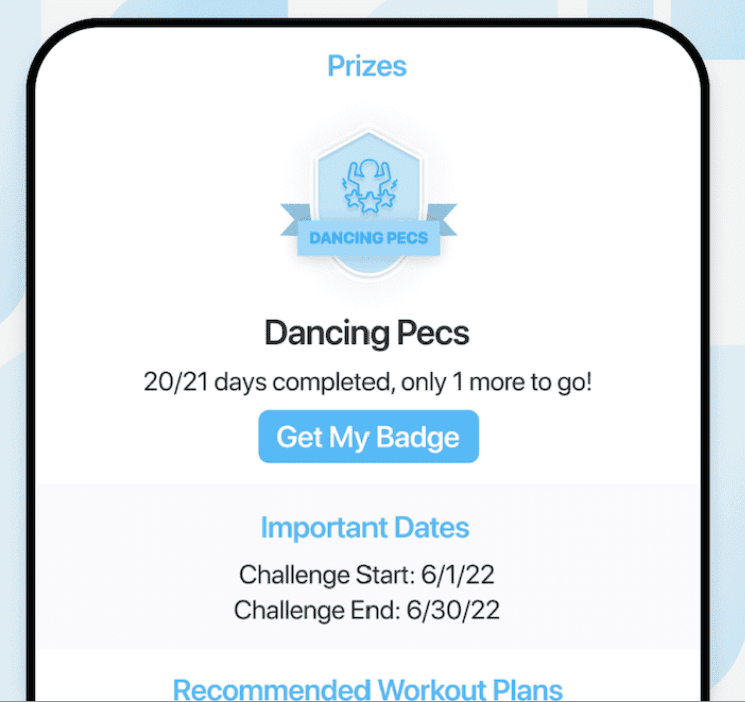 Track and log your workouts as you normally would, while adding an additional set of 20 pushups to your routine. You can visit the Monthly Fitness Challenge page to check your progress. Check back on the first of each month to see what the next challenge will be!
Full list of eligible pushup exercises:
Single-Leg Pushup
Clap Push Up
Push Up
Push Up to Side Plank
Drop Push Up
Elevated Push Up
Incline Push Up Depth Jump
Stability Ball Jack Knife Push Up
Weighted Drop Push Up
Deep Push-Up
Bench Push-up
Close Hand Push-up
Handstand Push-ups
Kettlebell Push-ups
Modified Push-Up to Forearms
One-Arm Dome Push-Up
Plyo Push-Up
Push-Up On Exercise Dome
Stability Ball Narrow Push-Up
Stability Ball Pike Push-up
Stability Ball Push-Up
Tricep Push-up
Wide Hand Push-up